National Geoparks
Experience geology live
Since 2002 the GeoUnion Alfred Wegener Foundation (AWS) has evaluated and certified regions applying for the designation of National Geopark, based on the established guidelines. 
As of November 2021, the AWS panel of experts had certified 18 National Geoparks. Because the name "geopark" is not protected, there are geoparks that are not certified and therefore have not committed to the goals and responsibilities named here.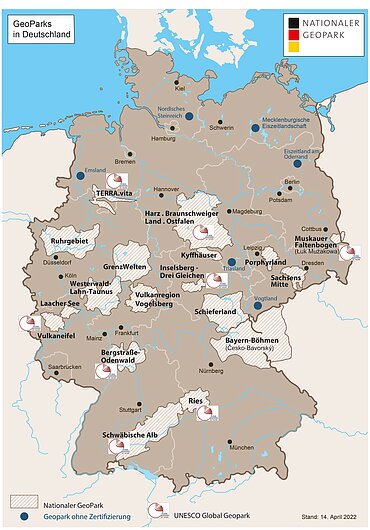 National Geoparks
are regions with clearly defined borders.
provide tangible examples to make the development history of the Planet Earth understandable.
present unique geological phenomena to behold and experience.  
seek ways in which significant geological phenomena can be preserved.
seek ways in which a region can develop sustainably, the environment can remain intact and, nevertheless, an acceptable economic development can occur. 
In National Geoparks, the significance of geological and geomorphological processes for the form of the Earth's surface, the distribution of natural resources, but also for land use as well as economic and cultural histories is acknowledged and made perceptible.
According to the UNESCO definition of Geoparks, a National Geopark contains a geological site (geotope) of a certain size or an ensemble of several geotopes that are of regional and national geo-scientific importance, rarity or beauty, and that can be considered representative of a landscape and its geological formation history. In addition to the geological sites there should also be archeological, environmental, historical or cultural attractions that are accessible to tourists or can be developed accordingly. A National Geopark has clearly defined borders and must be administered by a clearly defined structure. Furthermore, it must comprise a sufficiently large area in order to serve the economic development of the area. In the Geoparks, the goals of nature and environmental protection bodies should be aligned, in a socially acceptable manner, with the promotion of regional economic development.  By means of presentation, preservation and sustainable use of geological heritage, National Geoparks should contribute to the realization of the goals of the Agenda 21 (UNCED, Rio de Janeiro, 1992) and the World Summit for Sustainable Development (WSSD, Johannesburg 2002). That means, that the economic sector, especially the area of "tourism and leisure activities" will be considered in planning.