Info-Centers and Info-Points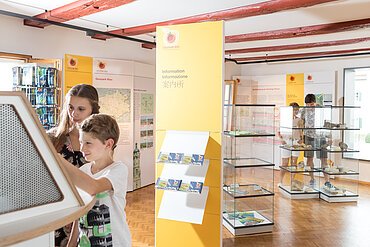 02.11.2020: We would like to inform you that museums and exhibitions must remain closed due to the current infection control regulations. This affects the information centers in Nördlingen, Oettingen, Wemding and Treuchtlingen.
The Geopark Info-Centers und Info-Points form the backbone of the landscape experience; they are contact points, information centers and hubs for the Geopark visitor. In the Info-Centers in the towns of Nördlingen, Oettingen and Treuchtlingen, display boards explain the formation of the Ries with vivid illustrations and simple descriptions. Info-Points are located in Nördlingen, Wemding, Monheim, Harburg and Deiningen. The Geopark Info-Centers are staffed and associated with the local tourist information office or similar facility. Each Info-Center has its own locally focused emphasis.   
The Geopark Info-Points convey brief and succinct knowledge about the Geopark Ries; they are not staffed.